Rare US stamp 'Inverted Jenny' sells for record $2M
The stamp is known for its rarity and was printed in error as the plane on it came out upside down
An ultra-rare stamp depicting an upside-down aircraft has sold for $2 million at a New York auction, setting the record for the most expensive single U.S. stamp sold.
The stamp, known as the "Inverted Jenny," was purchased on Wednesday and is known both for its rarity and for the fact that it was printed in error as the plane on it came out upside down. 
The red, white and blue colored stamp was purchased by Charles Hack, 76, a stamp collector, who told The Washington Post that it was "the holy grail of postage" and a piece of "American history."
PICASSO MASTERPIECE 'WOMAN WITH A WATCH' SELLS FOR NEARLY $140M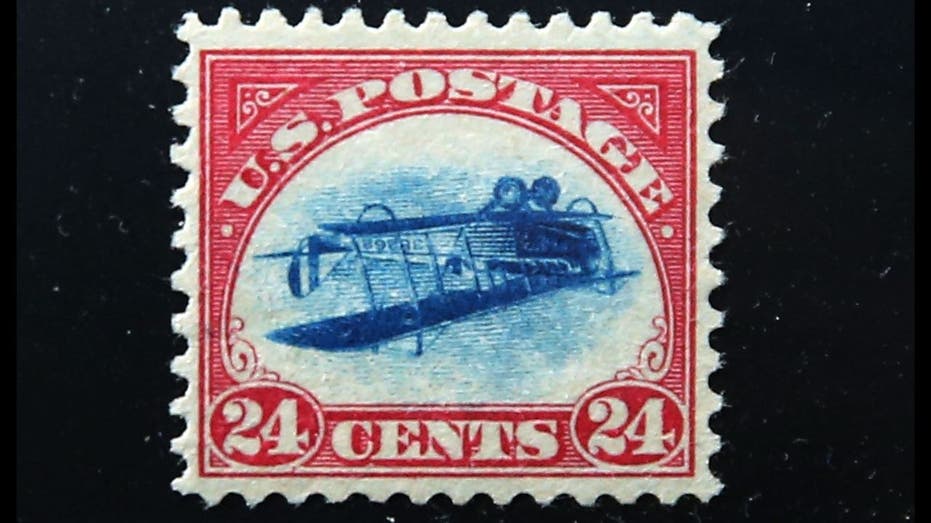 The Inverted Jenny stamp is considered a legend among collectors and was part of a collection made to mark the launch of a regular U.S. airmail service.
It features an image of the Curtiss JN-4 airplane in the center, though it is printed upside down in error. 
The original sheet of 100 Inverted Jenny errors was purchased by William T. Robey on May 14, 1918, the first day the stamps went on sale in all three principal airmail route cities: Washington, D.C., New York and Philadelphia, according to Siegel auctioneers. Each "Inverted Jenny" stamp was worth $0.24 when it was first released.
The stamp that sold on Wednesday is from Position 49 on the sheet and Siegel auctioneers said the stamp is the finest Inverted Jenny in existence.
It remained in its pristine "post office" condition in a bank vault for 100 years and has been kept in the dark since it was purchased by its last owner in 2018, according to Siegel auctioneers.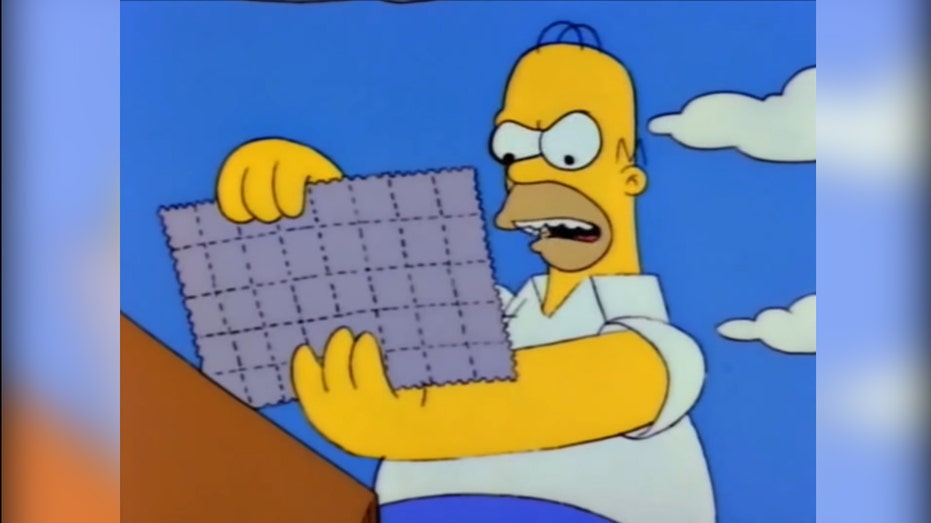 Because its exposure to light has been limited, the stamp's colors are rich, and the paper is bright.
The Inverted Jenny stamps have made their way into popular culture, including in a 1993 episode of the long-running American animated sitcom "The Simpsons," when Homer Simpson finds but disregards a sheet of the stamps at a flea market.
INVERTED JENNY STAMP STOLEN IN 1955 IS RETURNED TO OWNER
Homer is seen sifting through a box of priceless American artifacts when he comes across a sheet of Inverted Jennys.
"The airplane's upside down," he says, before throwing the sheet away. Homer also disregards a copy of the Declaration of Independence in the scene.
Meanwhile, in the 1985 movie "Brewster's Millions," Richard Pryor's character uses one to mail a postcard.
Many other Inverted Jenny stamps have their own histories.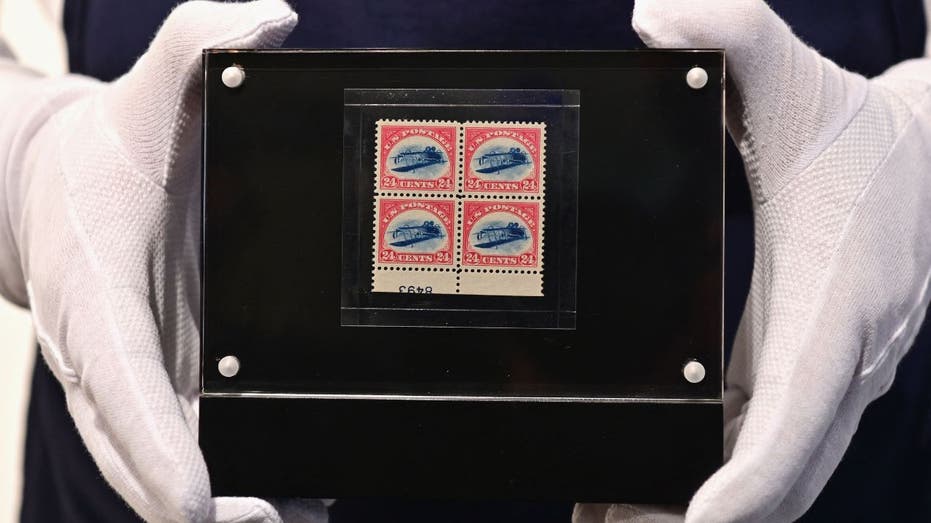 Another one surfaced in April 2016, six decades after it was stolen from a collectors' convention. A man in his 20s who lived in Northern Ireland said he inherited the stamp from his grandfather and knew little about it.
One stamp barely survived after it fell out of an album and a vacuum cleaner sucked it up, historians said.
CLICK HERE TO READ MORE ON FOX BUSINESS
Two of the Jenny stamps were recovered in the '70s and '80s from different Chicago stamp connoisseurs, who said they had bought the stamps from people who had since died or whose names they did not know, according to a 2014 article in the journal American Philatelist.
Hack told The Washington Post that he intends to continue to protect the stamp from light and preserve it.
The Associated Press contributed to this report.