Travis Kelce splurges for Taylor Swift, upgrades to $6M Kansas mansion
Kansas City Chiefs player's new home in a gated community will offer more privacy and security for the pop star's visits
Travis Kelce recently scored a new $6 million mansion amid his high-profile romance with Taylor Swift.
The 34-year-old Kansas City Chiefs player, who has been romantically linked to the 33-year-old pop star since September, splurged on a lavish 17,000-square-foot estate in the suburb of Leawood, Kansas, reportedly closing on the deal last month. 
Kelce's new property, located in a gated community at the end of a cul-de-sac, will afford considerably more privacy for Swift's visits than his current home, which is accessible by street and has become a magnet for paparazzi and fans.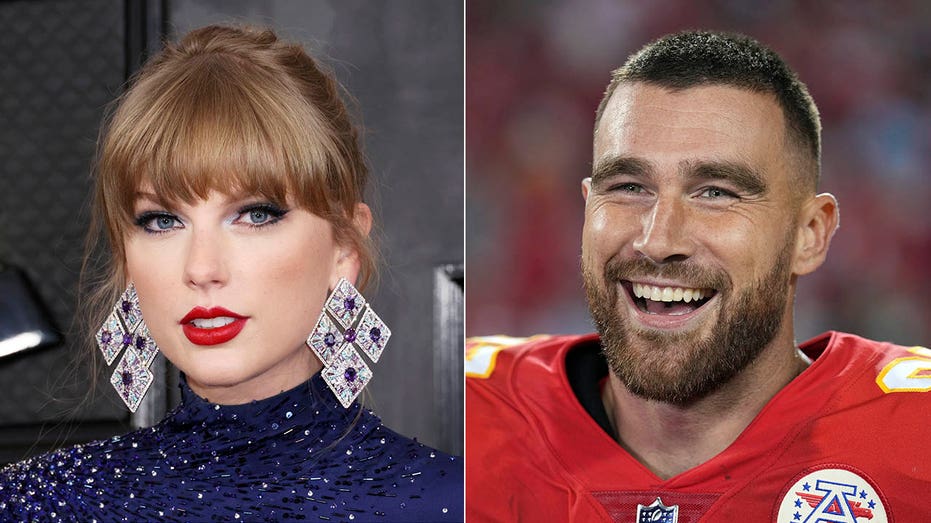 The NFL star lives in a custom seven-bedroom, 4,200-square-foot mansion in Kansas City's swanky Briarcliff West neighborhood, which he bought for $995,000 in 2019.
TAYLOR SWIFT AND TRAVIS KELCE RELATIONSHIP WORKS BECAUSE 'THEY'RE VERY SUPPORTIVE OF EACH OTHER,' HIS DAD SAYS
Just three days after Kelce and Swift first sparked dating rumors when she attended his Sept. 24 home game against the Chicago Bears, the tight end told his brother Jason Kelce paparazzi had started flocking to his house. 
"I've noticed a few things," Kelce remarked to Jason during the Sept. 27 episode of their "New Heights" podcast. "Like paparazzi outside my house. They all have British accents, too."
When the Philadelphia Eagles player asked Kelce how he knew they were paparazzi, he replied, "They have a camera in their hands, and they're screaming my name." 
"Oh, that's a dead giveaway," Jason joked.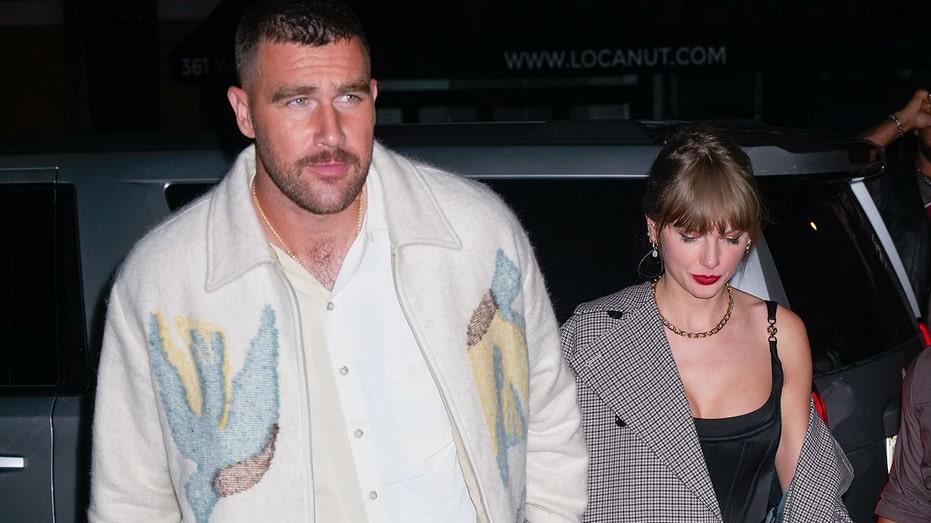 On Halloween night, Kelce's home was seen blocked off by caution tape in photos obtained by the Daily Mail. The move was an apparent attempt to dissuade trick-or-treaters from approaching the property, and a security guard was stationed in a car outside the driveway, per the outlet. 
The sudden onslaught of media attention reportedly prompted Kelce to quickly seek a more secluded home. According to an insider who spoke with the New York Post, the two-time Super Bowl winner also felt "self-conscious" about his relatively humble current home after he began dating the "Blank Space" hitmaker and wanted a major upgrade.
Kelce's new house, which was previously owned by a prominent Kansas City-area medical malpractice attorney, was built in 1998 and sits on over three acres, according to the Kansas City Journal. 
The Tomahawk Creek Estates residence boasts a Beverly Hills-style pool with a waterfall, a tennis and pickleball court, a miniature golf course, a six-car garage and a wine cellar, per the outlet.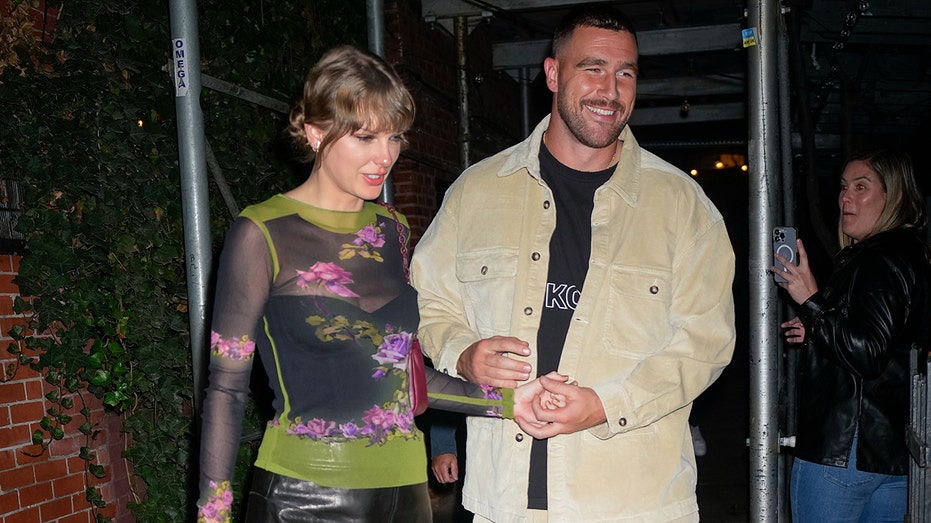 The purchase comes after Kelce signed a four-year, $57 million extension with the Chiefs prior to the 2020 season. His new home is about 15 miles away from the Chiefs' Arrowhead Stadium. 
Since attending her first Kansas City Chiefs game in September, Swift has cheered Kelce on alongside his family, including mother Donna Kelce, and friends at three of his other matchups. 
On Oct. 22, the 12-time Grammy Award winner watched from Brittany Mahomes' suite as the Chiefs defeated the Los Angeles Chargers at Arrowhead.
CLICK HERE TO READ MORE ON FOX BUSINESS
After the game, Swift was pictured kissing Kelce on the cheek in a photo shared by Chariah Gordon, the girlfriend of Chiefs player Mecole Hardman. Swift and Kelce were also spotted holding hands as they left the stadium. 
Swift was not in attendance for Kelce's Oct 29 game, when the Chiefs suffered their first loss since their home opener against the Detroit Lions in September. The singer is preparing for the international leg of her Eras Tour.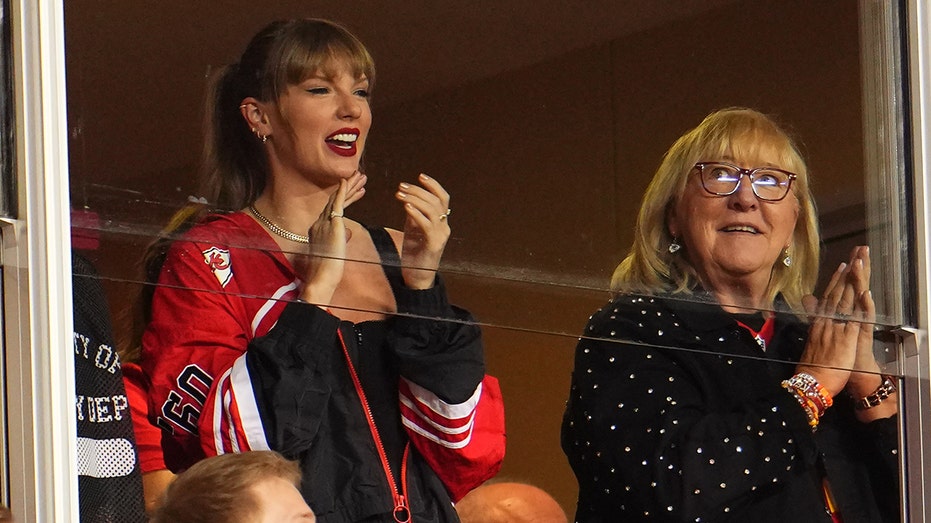 According to a report by Entertainment Tonight, Kelce plans to join Swift overseas when she heads back on the road again next week.
"Travis and Taylor are all in," a source told the outlet. "The two are very into each other and are enjoying their time together but are also planning for the future.
"Taylor starts her international tour in November, and Travis is planning to be there to spend time with her.
REBA MCENTIRE 'SO MAD' AT TAYLOR SWIFT FOR DATING 'CRUSH' TRAVIS KELCE
"Travis and Taylor are very serious about their careers, and the two bond over that and want to show support for each other whenever they can," the source added.
Representatives for Swift and Kelce did not respond to Fox News Digital's request for comment.
Swift will launch her international tour with three performances at Estadio River Plate in Buenos Aires, Argentina, Nov. 9, 10 and 11, according to her website.
The Chiefs have a bye the weekend of Nov. 12. The week off from playing would give Kelce a chance to travel to South America for Swift's shows in Argentina. 
At a press conference in Frankfurt, Germany, Friday, Kelce wouldn't confirm whether Swift would attend his international game Sunday against the Miami Dolphins.
"When I mention if she's going to be at the game, the Vegas line and over/under on my catches goes up and down, the spread goes up and down. So, I'm just going to keep that to myself," he told reporters in a video shared by Entertainment Tonight on X, formerly Twitter. 
CLICK HERE TO READ MORE ON FOX BUSINESS
At the end of the press conference, an international reporter asked Kelce about his relationship with Swift.
"What is the latest status, and are you in love?," the reporter asked.
"The latest status is I got to see her last week. That's the latest status right there," he said with a smile.
The reporter quickly followed up, asking, "And the second question was, are you in love?"
"I'm going to keep my personal relationship personal," Kelce replied while grinning as the reporters began laughing.